We Three Queens-Tribute to Aretha, Fleetwood Mac, Alanis Morissette & More!
We Three Queens – Tribute to Women in Rock, Pop, R&B, and Country — LIVE at MadLife Stage & Studios on Friday, September 23rd at 7:00!
We Three Queens – A Tribute to Women in Music
Patti Labelle, Fleetwood Mac, Janis Joplin, Alanis Morissette, Alicia Keys, Aretha Franklin, & more!
We Three Queens is a band from Charlotte, NC, focusing on women in music across rock, pop, R&B, and country genres featuring Jess Borgnis, Shea Payne, and Shaniya Simmons.
Jess brings over 20 years of performing and touring experience to the band. Her passion for more female representation on stage is what sparked her desire to start a new project by women and for women.
In addition to performing across the southeastern US, Shea has been a finalist on the hit TV shows, The Voice and The X Factor.
Shaniya is an up-and-coming artist, soon to be graduating with a degree in musical theater. Her powerhouse vocals and stage presence far exceed her years!
Supporting these fabulous women is the amazing W3Q Band – comprised of industry professionals with over 60 years of combined touring, recording, and performing experience. We are excited to bring the best music by the best female artists in the history of music to your town!

VENUE INFORMATION:
All ticket holders are able to order food and drinks during the event. Standing Room Ticket holders generally place their orders with the venue bar staff. Main Floor Reserved Table and VIP Balcony Table ticket holders are served by MadLife's friendly wait staff throughout the event.
Refer to the seating map below for a layout of the venue for this show. Please note the table arrangement is subject to change and not all tables may be available.
If You Wish To Select A Specific Reserved Table:
Holders of VIP Balcony and Main Floor Reserved Table tickets have the ability to select any available reserved table from the moment their tickets are purchased, up until 30 minutes BEFORE doors open to the event (i.e. if doors are at 6:30, cutoff time for selecting a reserved table would be at 6:00). Tables can be selected EITHER at the Box Office or by contacting the Box Office during its hours of operation at (678) 384-2363 ext. 1. Please note that tables cannot be selected online for this show and if you do not select a table, MadLife will select one for you. Selecting a table is not required, but is an option available.
For any wheelchair or ADA needs, please contact the Box Office in advance of the event at (678) 384-2363 ext. 1.
Please Note: Ticket Prices May Increase At Any Time
For any other questions regarding the event or tickets, please contact the Box Office during its hours of operation at (678) 384-2363 ext. 1.
Box Office hours of operation are Wednesday-Saturday 5:00 PM – 9:00 PM.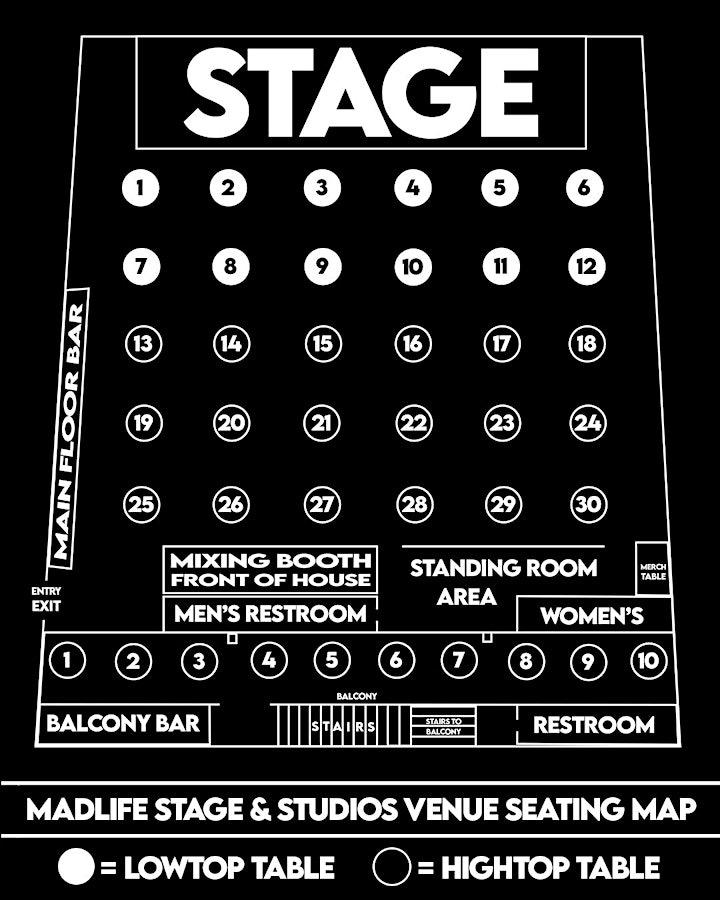 Event Information
Start Time: September 23rd, 7:00pm
End Time: September 23rd, 8:30pm
Website: Click Here
Location
8722 Main St
Woodstock, GA 30188
Organized By
MadLife Stage & Studios
https://www.eventbrite.com/o/madlife-stage-amp-studios-23372120571