The Legendary Music of Stevie Ray Vaughn Presented by Marty Manous
The Legendary Music of Stevie Ray Vaughn Presented by Marty Manous — LIVE at MadLife Stage & Studios on Thursday, October 20th at 7:30!
Marty Manous
The Legendary Music of Stevie Ray Vaughn Presented by Marty Manous
WEBSITE | FACEBOOK | INSTAGRAM | TWITTER
Marty Manous is a rare talent and total package; he is a skillful songwriter, soulful vocalist, and virtuosic guitarist! Creating a sound infused with Rock, Blues, Pop, and guitar hero stylizations (think Jimi Hendrix, Eric Johnson, Stevie Ray Vaughan and Gregg Allman, meet John Mayer and Chris Stapleton), he is an electrifying performer and business savvy artist in tune with today's music industry. "Marty Manous is one to watch for on the scene. One of the next 'young lions' hungry to make his mark on the guitar world." –Chris Duarte
Currently, Marty performs over 200 plus dates every year. In 2017 he released his second album, "Know My Name," (Know My Name Press Release) Which made it to number 30 on the U.K. Charts "Know My Name" was well received by critics and fans alike. Receiving reviews in Rock and Reel Magazine and more! Check out the press write ups in the Press and Media section. The Album release show for "Know My Name" sold out Madlife Stage and studio a 300 seat venue in Woodstock Ga. Check out the EPK that was filmed there. After the release of his all original 2015 album on Lucky Street Music Records titled "Transcendence," (Transcendence Press Release) Marty has gained popularity and critical acclaim from the media and fans alike around the world (Press Reviews). Receiving radio airplay on mainstream stations, collage stations in all 50 states, international airplay in Europe (most notably on the syndicated London show The Blues Hour With Martin Clark), "Transcendence" made it to the top 5 albums on the Independent Album Charts and stayed in the top 10 for 6 months. Marty was voted one of the top three of more than 450 bands for the 2015 Hard Rock Rising Contest in Atlanta, Georgia and performed in the finals to a crowd of predominantly Marty Manous fans at the Velvet Underground with all original music. Capitalizing on the success and momentum of his album, Marty and his management team are expanding tour dates and planning a follow up 2016 album release!
On the album Transcendence, Marty creates a sound that transcends genres and displays his virtuosic guitar abilities. His voice is strong, soulful and adds to the power of this album. Combining the power of Rock and Roll, with Pop sensibilities and Funk grooves "Transcendence" grabs hold of you and takes you for a musical ride that's fun and emotive. Marty calls upon A-list drummer Sean O'Rourke (Sugarland, Derek Trucks, Mothers Finest, Aquarium Rescue Unit) to help add the groove. The songs are well crafted and show a youthful fire, while maintaining maturity beyond his years. Working with producer Sketch Ellis was one of the final pieces to the puzzle for this album allowing Marty to capture the sounds he hears in his head and the powerful performances he produces live to this album.
Growth as an artist is extremely important to Marty, and his love for all types of music helps him achieve this. "Music is the result of the soul trying to express feelings greater than words." – Marty Manous. It also helps him meet the fans who are an inspiration and who help make the live experience of Marty Manous a truly extraordinary event. Marty manages to recreate the great concert experiences of the past- that uplifted people and brought joy to their lives- with not only his original music, but also with his ability to channel the emotion and intensity of celebrated guitar heroes.
Marty graduated with Honors from Atlanta Institute of Music. During his time at A.I.M., Marty studied with some amazing musicians/guitarists including Jimmy Herring, Carl Culpepper, Steve Cunningham, and Nite Driscol. Marty studied vocally at Jan Smith Studios in Atlanta, Georgia. Marty Manous – has opened and shared the stage with many top acts such as: Mothers Finest, George Lynch of the Band Dokken, The Fabulous Thunder Birds, Foghat, Todd Smallie of the Derek Trucks Band, Ricochet, The Answer from the U.K., and many other great national acts.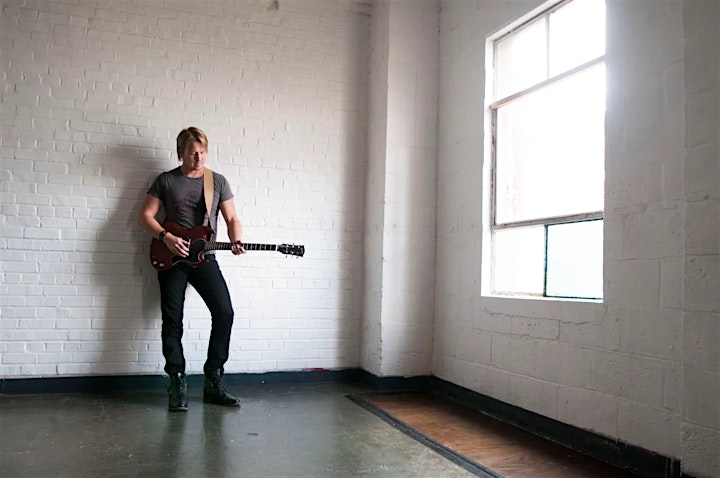 VENUE INFORMATION:
All ticket holders are able to order food and drinks during the event. Standing Room Ticket holders generally place their orders with the venue bar staff. Main Floor Reserved Table and VIP Balcony Table ticket holders are served by MadLife's friendly wait staff throughout the event.
Refer to the seating map below for a layout of the venue for this show. Please note the table arrangement is subject to change and not all tables may be available.
If You Wish To Select A Specific Reserved Table:
Holders of VIP Balcony and Main Floor Reserved Table tickets have the ability to select any available reserved table from the moment their tickets are purchased, up until 30 minutes BEFORE doors open to the event (i.e. if doors are at 6:30, cutoff time for selecting a reserved table would be at 6:00). Tables can be selected EITHER at the Box Office or by contacting the Box Office during its hours of operation at (678) 384-2363 ext. 1. Please note that tables cannot be selected online for this show and if you do not select a table, MadLife will select one for you. Selecting a table is not required, but is an option available.
For any wheelchair or ADA needs, please contact the Box Office in advance of the event at (678) 384-2363 ext. 1.
Please Note: Ticket Prices May Increase At Any Time
For any other questions regarding the event or tickets, please contact the Box Office during its hours of operation at (678) 384-2363 ext. 1.
Box Office hours of operation are Wednesday-Saturday 5:00 PM – 9:00 PM.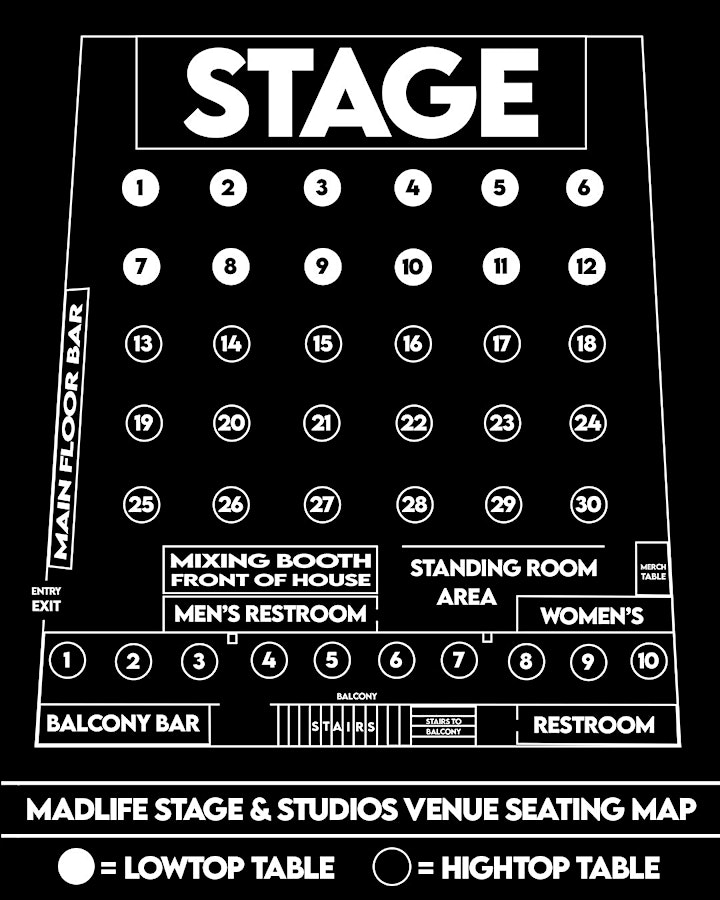 Event Information
Start Time: October 20th, 7:30pm
End Time: October 20th, 9:00pm
Website: Click Here
Location
8722 Main St
Woodstock, GA 30188
Organized By
MadLife Stage & Studios
https://www.eventbrite.com/o/madlife-stage-amp-studios-23372120571