Reckless: The Ultimate Bryan Adams Tribute
Reckless: The Ultimate Bryan Adams Tribute — LIVE at MadLife Stage & Studios on Saturday, August 27th at 7:00!
Reckless: The Ultimate Bryan Adams Tribute
RECKLESS is the most respected Bryan Adams tribute band in the Southeast. RECKLESS replicates the look, sound and feel of the original 80's rock legend; Bryan Adams. These veteran musicians love what they do and have developed an amazing on-stage chemistry. They pride themselves on giving their audience an incredible high-energy, qualitative stage show from start to finish. Dressed in the iconic denim and motorcycle vest, RECKLESS's lead vocalist, Eric Hogan, has an amazing singing voice, flawlessly matching Bryan's vocal range and on-stage movements.
RECKLESS plays all the hit songs that everyone knows and loves. They perform for 2 hours straight without taking a break to give their audience the true concert experience. Their performance is professional and highly engaging for their audience. Everything heard during their performance is live with no pre-recorded tracks used.
RECKLESS brings the very best of Bryan Adams to audiences of all ages.

VENUE INFORMATION:
All ticket holders are able to order food and drinks during the event. Standing Room Ticket holders generally place their orders with the venue bar staff. Main Floor Reserved Table and VIP Balcony Table ticket holders are served by MadLife's friendly wait staff throughout the event.
Refer to the seating map below for a layout of the venue for this show. Please note the table arrangement is subject to change and not all tables may be available.
If You Wish To Select A Specific Reserved Table:
Holders of VIP Balcony and Main Floor Reserved Table tickets have the ability to select any available reserved table from the moment their tickets are purchased, up until 30 minutes BEFORE doors open to the event (i.e. if doors are at 6:30, cutoff time for selecting a reserved table would be at 6:00). Tables can be selected EITHER at the Box Office or by contacting the Box Office during its hours of operation at (678) 384-2363 ext. 1. Please note that tables cannot be selected online for this show and if you do not select a table, MadLife will select one for you. Selecting a table is not required, but is an option available.
For any wheelchair or ADA needs, please contact the Box Office in advance of the event at (678) 384-2363 ext. 1.
Please Note: Ticket Prices May Increase At Any Time
For any other questions regarding the event or tickets, please contact the Box Office during its hours of operation at (678) 384-2363 ext. 1.
Box Office hours of operation are Wednesday-Saturday 5:00 PM – 9:00 PM.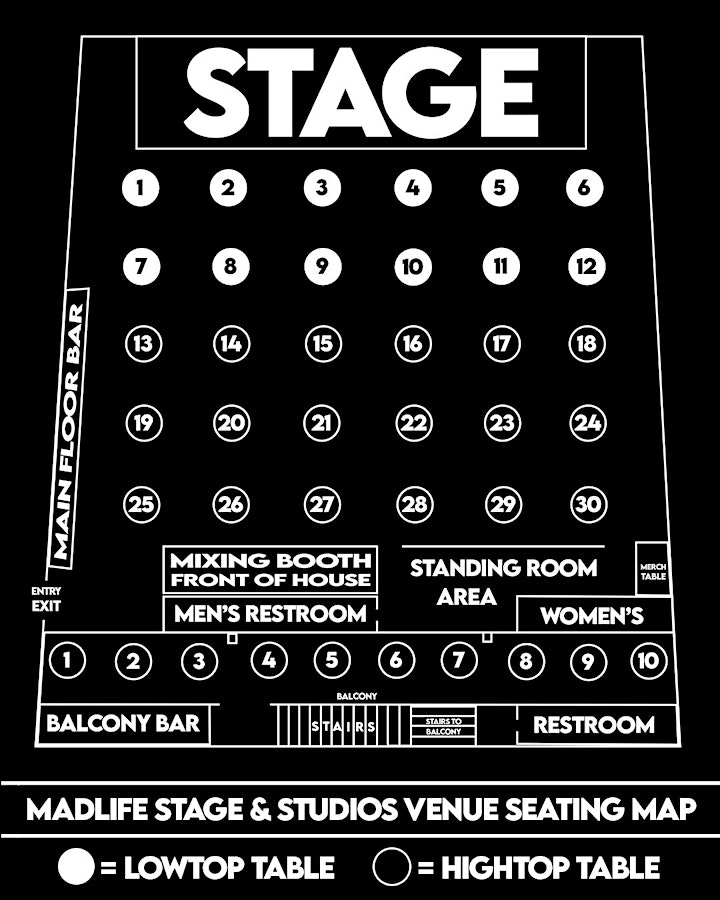 Event Information
Start Time: August 27th, 7:00pm
End Time: August 27th, 8:30pm
Website: Click Here
Location
8722 Main St
Woodstock, GA 30188
Organized By
MadLife Stage & Studios
https://www.eventbrite.com/o/madlife-stage-amp-studios-23372120571