Brenda Pinnick, a local artists featured in our Home Grown: Artists from the Peach State exhibit, will speak about the inspiration, process, and the context behind her work on display, as well as provide insight into her creative process through a demo. The illustrated talks provide an opportunity for artists to share their artwork and ideas to the public and offer insight into the exhibition as a whole. Be part of the conversation, express your thoughts and ideas, or simply sit back and enjoy the discussion.
This event is free to the public and takes place on the front porch of the Reeves House.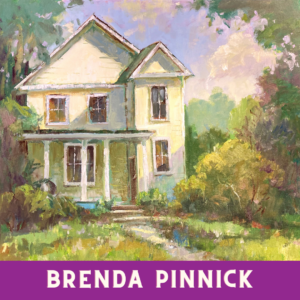 BRENDA PINNICK is a plein air painter who paints whatever she sees in front of her and draws our attention to often underappreciated details of everyday life. Her understated colors and energetic brushstrokes create scenes that radiate a sense of calm. She utilizes subtle shifts in color temperature and saturation to capture the time of day and the atmospheric conditions.
Brenda Pinnick first studied fine arts at Bartlesville College in Oklahoma. Later in life, she decided to get the graphic design education she had always been attracted to and went back to school, attending the Creative Circus in Atlanta, GA. After graduating early, she was recruited by Hallmark Cards to work in Kansas City creating gift wrap and party goods. After a few years of working for others, Brenda launched her art/desgin licensing business and designed for the crafting industry, including scrapbook kits, paper crafting kits and fabric for quilters. Brenda's products were loved for the beautiful color and whimsical but elegant designs. She sold product via major retail outlets in the USA, Canada, Australia and England.
Event Information
Start Time: July 26th, 6:30pm
End Time: July 26th, 7:00pm
Website: Click Here
Location
734 Reeves St
Woodstock, GA 30188 United States