Banks & Shane – Atlanta's Entertainment Tradition
Banks & Shane – Atlanta's Entertainment Tradition — LIVE at MadLife Stage & Studios on Thursday, March 31st at 7:30!
Banks & Shane
For over forty years, Banks Burgess, Paul Shane, and their fabulous band have brought folks in Atlanta the best entertainment the town has ever seen. Their high-spirited renditions of old-time rock n' roll, folk, bluegrass, and country are known for bringing capacity crowds to their feet! Their show is not just musical entertainment for your party, The Banks & Shane show is the party! It's high-energy good-time music, spiced with a healthy dose of the good-natured wit and patter that Banks and Paul have fine-tuned on their tours across the U.S. and around the world.
Banks & Shane has performed in almost every venue imaginable. The band is a legend in the ski resorts of Colorado. They have traveled to London, Munich, Frankfurt, and Amsterdam, representing The State of Georgia and The Atlanta Convention & Visitor's Bureau. In Atlanta, they have performed as headliners at Chastain Park, Symphony Hall, and the Fox Theater. In the summer of 2006, the band appeared as co-headliners with comedian Jeff Foxworthy in a sold-out concert at Lake Lanier Islands which benefited two of Atlanta's most-loved children's charities, Camp Sunshine and Children's Healthcare of Atlanta.
Banks & Shane's corporate clients include IBM, AT & T, BellSouth, Delta Airlines, Coca-Cola, Home Depot, State Farm Insurance, and many others. They have been regular performers at Atlanta's most prestigious country clubs, including The Atlanta Athletic Club, Cherokee, and The Atlanta National Golf Club.
During the Centennial Olympic Games in Atlanta, Banks & Shane were contracted for multiple performances by the major sponsors, including John Hancock Insurance, Coca-Cola, Home Depot, and Bank of America. Their performances were a great success, giving visitors from around the world a taste of the best in "Down Home Entertainment".
The Banks & Shane band is comprised of Banks Burgess on banjo and guitar, Paul Shane on guitar and trombone, Chuck Shane on drums and electric bass,, Jim Durand on electric guitar, bass, and acoustic guitar, and Dennis Law on drums. The versatility of this band is impressive indeed. They can move effortlessly from country to folk to oldies rock & roll and back again, with something to please everyone.
Banks & Shane is indeed "Atlanta's Entertainment Tradition", combining exceptional talent, consummate showmanship and professionalism, and thirty years' experience. They are certain to make your event a great success!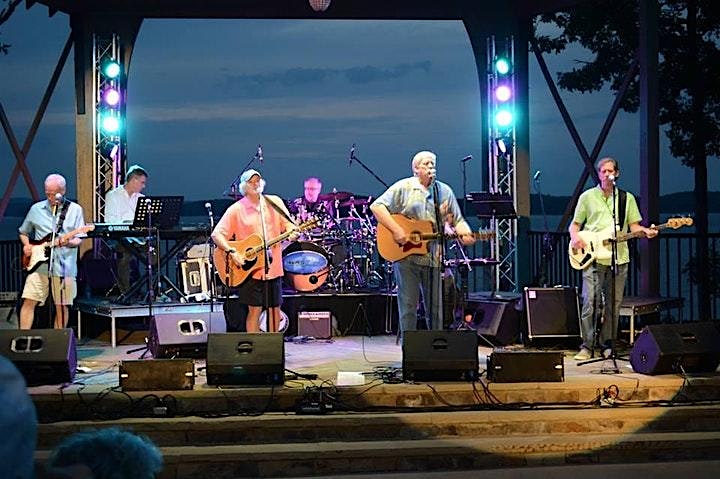 VENUE INFORMATION:
All ticket holders are able to order food and drinks during the event. Standing Room Ticket holders generally place their orders with the venue bar staff. Main Floor Reserved Table and VIP Balcony Table ticket holders are served by MadLife's friendly wait staff throughout the event.
Refer to the seating map below for a layout of the venue for this show. Please note the table arrangement is subject to change and not all tables may be available.
If You Wish To Select A Specific Reserved Table:
Holders of VIP Balcony and Main Floor Reserved Table tickets have the ability to select any available reserved table from the moment their tickets are purchased, up until 30 minutes BEFORE doors open to the event (i.e. if doors are at 6:30, cutoff time for selecting a reserved table would be at 6:00). Tables can be selected EITHER at the Box Office or by contacting the Box Office during its hours of operation at (678) 384-2363 ext. 1. Please note that tables cannot be selected online for this show and if you do not select a table, MadLife will select one for you. Selecting a table is not required, but is an option available.
For any wheelchair or ADA needs, please contact the Box Office in advance of the event at (678) 384-2363 ext. 1.
Please Note: Ticket Prices May Increase At Any Time
For any other questions regarding the event or tickets, please contact the Box Office during its hours of operation at (678) 384-2363 ext. 1.
Box Office hours of operation are Wednesday-Saturday 5:00 PM – 9:00 PM.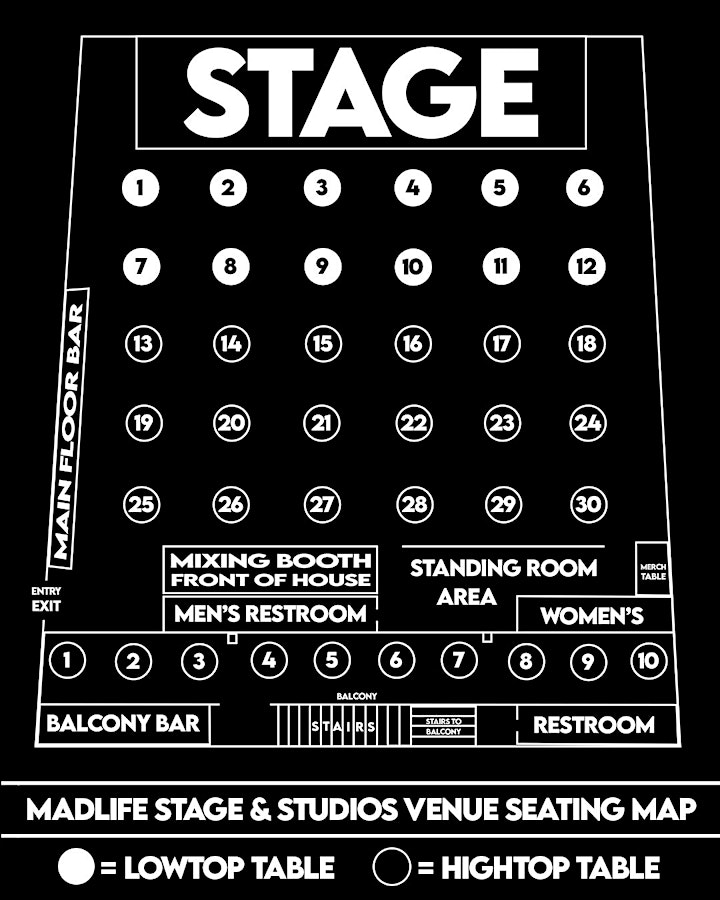 Event Information
Start Time: March 31st, 7:30pm
End Time: March 31st, 9:00pm
Website: Click Here
Location
8722 Main St
Woodstock, GA 30188
Organized By
MadLife Stage & Studios
https://www.eventbrite.com/o/madlife-stage-amp-studios-23372120571