Angry Chair – Alice In Chains Tribute | SPECIAL LATE SHOW PRICING!
Angry Chair – The Ultimate Alice In Chains Tribute — LIVE at MadLife Stage & Studios on Friday, September 16th at 10:00 PM!
Angry Chair – The Ultimate Alice In Chains Tribute
Angry Chair was created with one thought in mind: To create the most authentic and exciting Alice In Chains experience possible. It's a job they take very seriously.
Hailing from Charlotte, North Carolina, Angry Chair consists of Travis Dry (Lead Vocals/Rhythm Guitar), Todd Langdon (Guitar/Backing Vocals), Max Johnson (Bass/Backing Vocals), and Adam Blackmon Drums); all seasoned music industry veterans with years of experience creating compelling live shows that suck in the audience and leave them wanting more.
That the last few years have been a whirlwind of activity for the group would be an understatement. Angry Chair has been playing for thousands of people at legendary venues such as The Ritz Raleigh, The Fillmore Charlotte, and The House of Blues, where the group has repeatedly shown that they have an almost uncanny ability to draw in a crowd and keep them until the last note rings out. With each new show their audience grows and the word spreads: Angry Chair is the Ultimate Alice in Chains Tribute Act.
Angry Chair is:
Travis Dry (Lead Vox / Rhythm Guitar)
Todd Langdon: (Lead Guitar/ Backing Vox)
Max Johnson: (Bass / Backing Vox)
Adam Blackmon: (Drums)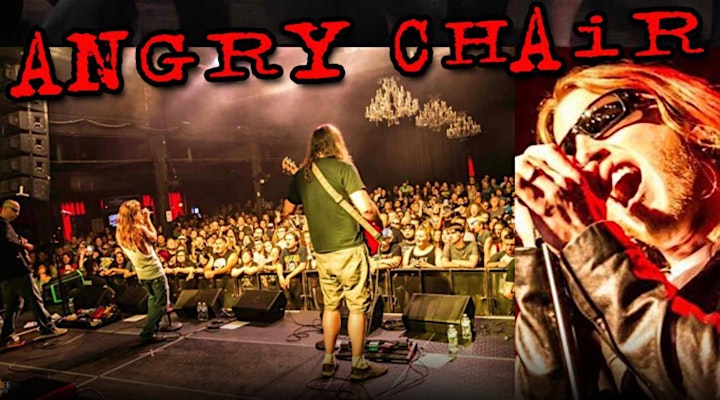 VENUE INFORMATION:
All ticket holders are able to order food and drinks during the event. Standing Room Ticket holders generally place their orders with the venue bar staff. Main Floor Reserved Table and VIP Balcony Table ticket holders are served by MadLife's friendly wait staff throughout the event.
Refer to the seating map below for a layout of the venue for this show. Please note the table arrangement is subject to change and not all tables may be available.
If You Wish To Select A Specific Reserved Table:
Holders of VIP Balcony and Main Floor Reserved Table tickets have the ability to select any available reserved table from the moment their tickets are purchased, up until 30 minutes BEFORE doors open to the event (i.e. if doors are at 6:30, cutoff time for selecting a reserved table would be at 6:00). Tables can be selected EITHER at the Box Office or by contacting the Box Office during its hours of operation at (678) 384-2363 ext. 1. Please note that tables cannot be selected online for this show and if you do not select a table, MadLife will select one for you. Selecting a table is not required, but is an option available.
For any wheelchair or ADA needs, please contact the Box Office in advance of the event at (678) 384-2363 ext. 1.
Please Note: Ticket Prices May Increase At Any Time
For any other questions regarding the event or tickets, please contact the Box Office during its hours of operation at (678) 384-2363 ext. 1.
Box Office hours of operation are Wednesday-Saturday 5:00 PM – 9:00 PM.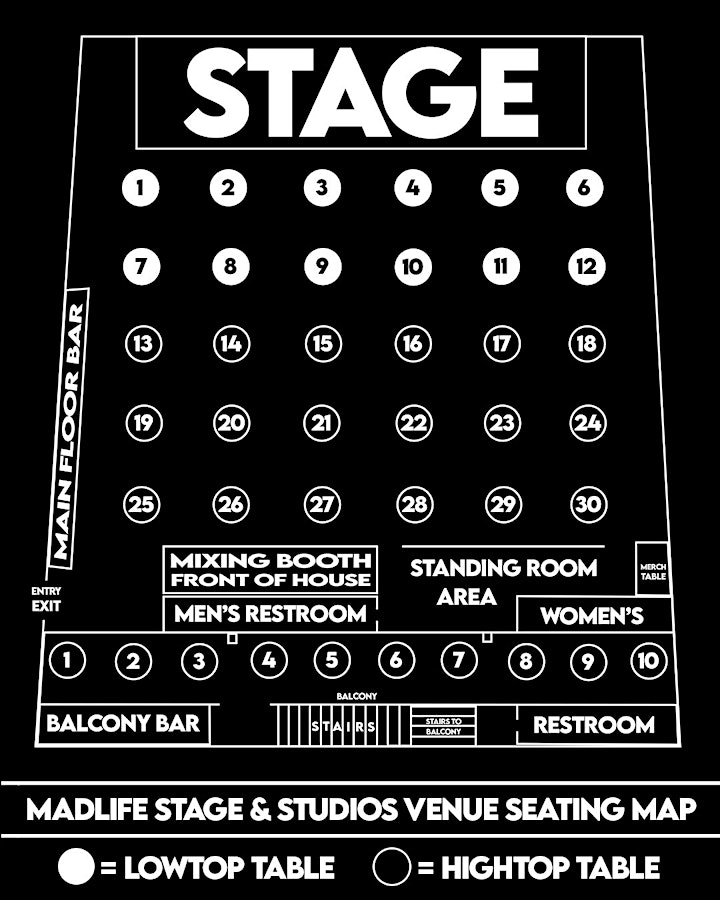 Event Information
Start Time: September 16th, 10:00pm
End Time: September 16th, 11:30pm
Website: Click Here
Location
8722 Main St
Woodstock, GA 30188
Organized By
MadLife Stage & Studios
https://www.eventbrite.com/o/madlife-stage-amp-studios-23372120571